As you may have understood from our blog series on annual filings, a great deal of information is submitted with the annual return. The annual return helps directors, stakeholders, and regulators understand the company's activities over the previous year based on information disclosed in the return. Hence, the data filed must be true and accurate. One way to confirm this is to have a company secretary (CS) examine various secretarial information before the return is filed and issue an independent certificate in Form MGT-8. Form MGT-8 is a certificate signed by a practising company secretary and filed with the Registrar of Companies (ROC), along with the board report as part of the annual filings.
When is Form MGT-8 required?
If you are a director of a company whose paid-up capital is INR 10 crores (or more) and turnover is INR 50 crores (or more), you need to obtain the certificate in Form MGT-8 from a CS and file it along with the annual returns (Form MGT-7). The CS examines the registers, records, books that the company has to maintain under the Companies Act, 2013 and accordingly issues the certificate. 
What does the CS examine?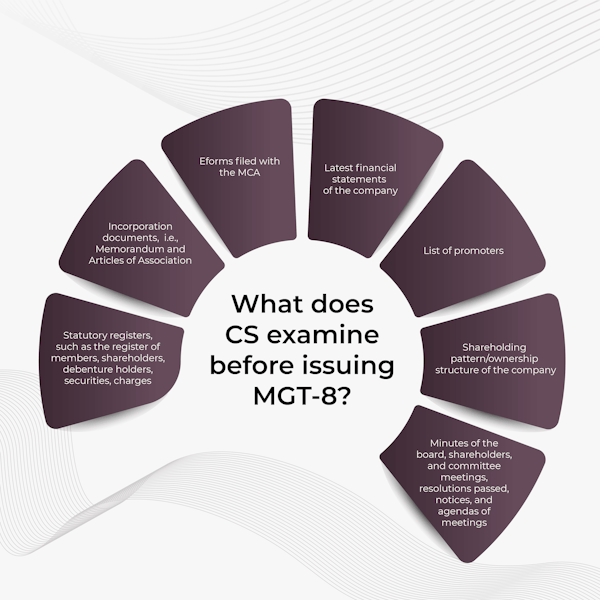 What does Form MGT-8 confirm?
The CS examines the documents listed above to check mainly whether the information disclosed in the annual returns is true, accurate, and complete. In particular, the CS checks to see if:
There are any misstatements or there is any concealment of data

The registers and records maintained by the company are up to date and correct

All filings to be made under the Companies Act to the Registrar of Companies have been made within the timelines prescribed

Share certificates have been issued for any new shares issues made in the year

Secondary transfers have been recorded

There are any loans or deposits.

Preference shares were bought back or redeemed

Dividend was paid in the year

T

here are changes in board composition, i.e.,  new directors were appointed, or existing directors resigned or were reappointed or removed
Once all details and documents are verified, the CS issues Form MGT-8 in the format prescribed in the Companies Act, 2013 disclosing all their findings.  
You can employ a CS or a practising whole time consultant to certify the annual return. If the CS is an employee in your company, then they must certify the return.