In the second and final part of this article, we look at some of the latest critical trends in how ESOPs work in startups. Employee Stock Option Plans (ESOPs) are playing a key role in helping startups strengthen their relationship with their employees.
In part 1 we looked at ESOP announcements by startups of various sizes. You can read it here. 
As a part of our research paper GEN ESOP, we've pulled out the key ESOP trends for 2022. Let's see how companies are maximising the impact of ESOPs by building a scalable ESOP policy.
Key data-backed ESOP trends for 2022
4. Nature of option buybacks: Option buybacks ruled the roost
ESOP programs are profit-sharing plans used by companies to bridge the gap between company and employees. Companies tie the financial health of stakeholders to their workforce, making survival possible. 

In our study, we found that among all option-related announcements, option buyback emerged as a winner for startups to reward and incentivize employees.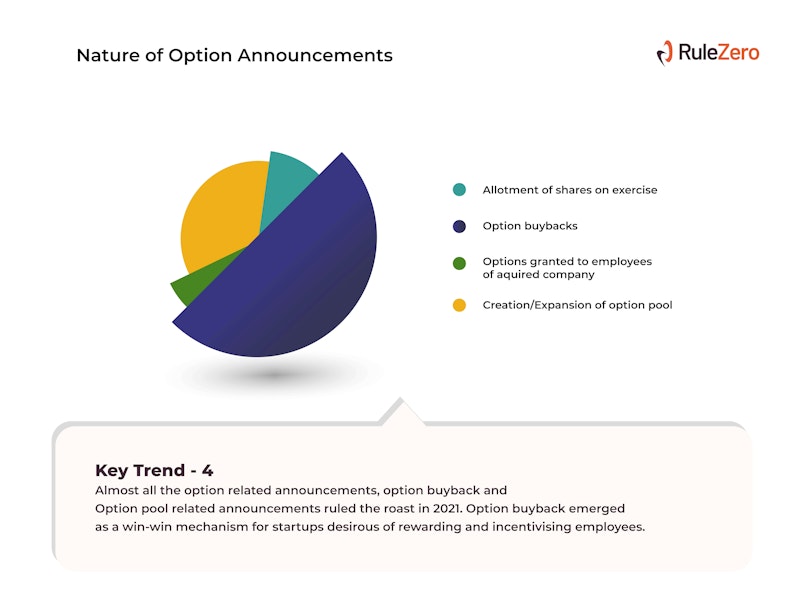 ESOP buybacks prevent equity dilution, allowing founders to retain significant ownership of their stock while replenishing the stock pool. Additionally, ESOP buybacks are tangible proof of the company's growth. While a positive employment outlook is maintained, it boosts employees' confidence in the wealth-sharing mechanism.
An ESOP buyback plan is a financial incentive that motivates employees to stay with the company to be able to exercise their ESOPs.
5. The rise in the value of option buybacks
The volume and number of buybacks executed by Indian startups have proven listing is not the only popular liquidity mechanism for options. 

The front runners in this are new-age businesses, mostly unlisted companies. 
In July 2021, Flipkart announced the largest buyback of employee stock options worth INR 600 crores. An estimated 6,000 people were to benefit from the buyback.
Around the same time, Swiggy also announced a new plan for employees to tender their stock options worth $30-40 million over 2 years.
Early in 2021, Browserstack also completed its first ESOP buyback worth %50 million wherein employees who had been with the company for 2 years were eligible to participate.
Towards the end of 2021, Meesho announced a $5.5 million ESOP program to buy back vested stocks from both current and former employees. 
Many other companies like Moglix, Unacademy, Locus and Cred set up liquidity events in 2021. 
It is safe to say that this trend has increased the allure of ESOPs, shaking off the myth that they're barely worth the paper they're printed on.  
6. Companies expanded their option pool size
We saw several companies expand their option pool size. 
Flipkart led the pack by creating an ESOP pool worth INR 17,000 crores. 

Fintrackr

estimates the value of marketplace Purplle's ESOP pool size to be INR 313 crore. 
Ninjacart added INR 38 crore worth of stock by adding new options. 
7. Coverage of option pool announcement
As per our findings, from companies who've made announcements for the creation or expansion of option pools, most of them have offered grants to selected employees. Senior executives are the ones receiving maximum ESOP options.
Having become an integral element of attracting talent, going forward, we can expect more companies to issue employee stock options to the majority of employees.
Founders believe that building a product often takes time and ESOPs provide early liquidity to employees thus creating wealth without the need for the company to go for an early exit.
Increasing transparency in ESOPs: Building blocks for startups
The last two years have shed light on the importance of ESOP programs as a strong tool for rewarding risk-taking and high-performance employees. Not all companies can match the fight of the hyper-funded startups for salaries to hire the best talent. And that's where ESOPSs come to play, making employees feel a part of the process. 
That said, for all the millionaires that ESOPs created, there are many more who got left behind. Our report shows that companies are trying harder than ever to make their ESOP pitches resonate with employees. 
Read the previous part of this topic "What are the Key Trends in ESOPs – Part 1".