In this two-part article, we take a look at some of the key ESOP trends paving inroads for Indian startups and corporates. 
ESOPs have become pivotal in attracting and retaining the most qualified talent for startups. As per a study, companies with employee stock ownership plans increase sales and employment by 2.3-2.4% each year, as compared to their counterparts with no ESOP programs. Furthermore, ESOPs become the impetus for pushing employees to work harder. 
Naturally, ESOPs are a top priority for employees looking to change jobs. This is why founders looking to roll out ESOP in your company, granting stock options and administering them should be aware of the top ESOP trends taking center stage in 2022. 
This study was a part of our research paper GEN ESOP. 
We've curated this data based on surveys from Rainmatter foundation (Zerodha), Accel, Blume Ventures and other marquee Venture Capital firms.
Key ESOP trends based on highlights of 2022
1. ESOP announcements: The technology sector topped the list
The technology sector led by startups sprinted past all other sectors in making ESOP announcements ranging from option buybacks, option pool creation and option enhancements. However, sectors like financial services, cement and automobiles made no such announcements.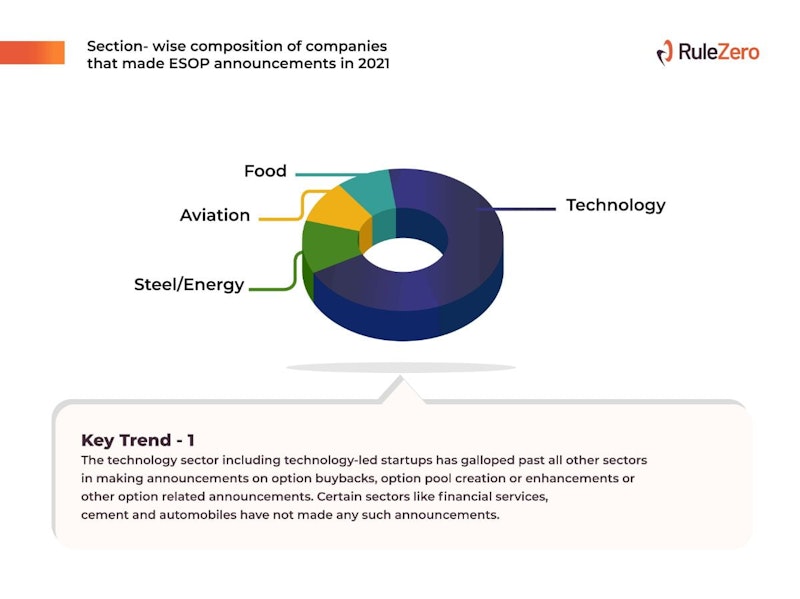 An employee option pool is defined as equity specifically allocated for employees. Considering the boom-or-bust nature of startups, employee option pools play an important role in attracting the necessary talent to help grow the company. 
As per a report by
Trifecta Capital
, 70% of B2B startups have an ESOP pool larger than 7.5% compared to ~40% of all other startups. 
We see an increasing number of startups offering sophisticated compensation mechanisms – a combination of variable pay coupled with ESOPs. 
Startups are undertaking ESOP buybacks to share their success (and wealth) with their employees. As per media publisher Inc42, Indian employees have made $159 million through option buyback programs. 
Fintech unicorn Razorpay announced an ESOP liquidation program worth $75 million earlier in May. This saw the participation of nearly 650 current and former employees making it one of its largest option buyback programs. 
Here are the other Indian startups that opted for option buybacks in 2022.
Of late, option buyback schemes have got an impetus owing to the fast-changing investment scenarios.
2. The majority of option announcements were made by companies established 4-7 years ago
One of the findings of our study was that the majority of option-related announcements were made by companies established 4-7 years ago, closely followed by those formed 8-10 years ago. 
Companies like Udaan, Zetwerks, Cashify, Khatabook, Razorpay, InVideo and Meesho who announced option buybacks fall in the range of being established 4-7 years ago. 
Flipkart, Swiggy, Zerodha, Urban Company and Simplilearn who also made option announcements were formed 8-10 years ago. 
3. Unlisted companies were the forefront runners in making SOP announcements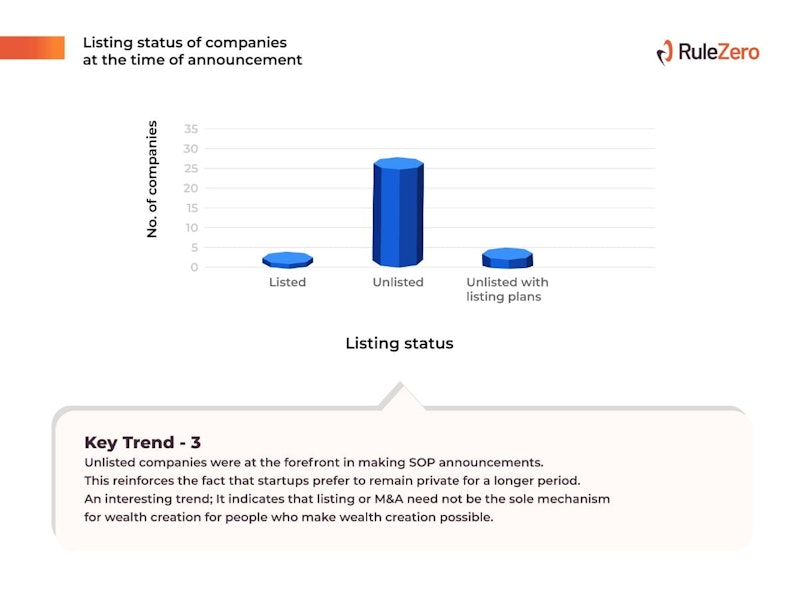 As per media publication Entrackr, Indian startups recorded the highest ever buyback of ESOPs in 2022 – $440 million. A majority of them were unlisted companies. This also reinforces the fact that startups are preferring to remain private for longer periods of time. Another interesting trend that emerges is that listing or merger and acquisition are not the only ways for wealth creation. 
In 2021, following a $100 funding round, Khatabook said it was buying back $10 million worth of ESOPs. The company said eligible employees could sell as much as 30% of their vested options. SOP announcements like ESOP buybacks are often to acknowledge and reward employees, ex-employees and early-stage investors who contributed to the company's growth. 
Stay tuned……..
In the second part, we'll examine the four other trends related to ESOP option pools along with examples of companies following each of these trends. 
Looking for help with your ESOP plan? Book a 30-minute free demo to see how RuleZero can help you.